AGM 2019
We are pleased to announce that our Annual General Meeting (AGM) will be held on February 28, 2019 at 10:00am at:
Toronto Airport Marriott, 901 Dixon Road
Toronto, ON Canada M9W 1J5
For an update on company activities Mr, Martin.
Michael E. Martin
Investor Relations -Tanzanian Royalty
D. Line: 860-248-0999 - Office: 844-364-1830
email: m.martin@tanzanianroyalty.com
TANZANIAN ROYALTY EXPLORATION Update
Article by Clive Maund
www.clivemaund.com
Tanzanian Royalty stock is right now regarded as selling at an extraordinarily low bargain price. There are several important reasons for this. One is that several years back it (and other key mining stocks) suffered from an orchestrated shorting campaign where, after the conspirators heavily shorted a stock, they set about spreading negative disinformation about the company.
---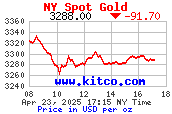 ---
---
login